Support in everything
I, Bianca Wijnstekers, have been providing certified translations for private individuals ever since I started up my translation agency in 2015. Since then, I have seen all sorts of documents – you name it, I'm pretty sure I've translated it.
As a private individual, it is easy to lose sight of the wood for the trees when you are going through all that red tape and hassle. Thanks to years of experience, I know the ropes. So, if you find yourself stuck, I would be more than happy to advise you.
A selection of the texts I've translated so far can be found below.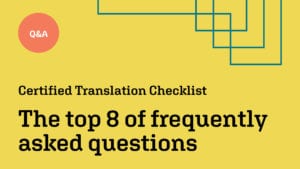 Marriage certificate
Birth certificate
Deed of recognition
Extract from the custody register
Cohabitation agreement
Divorce certificate
Deed of registration of a court decree
Decision
Will
Living will
Death certificate
Extract from the Personal Records Database
Residence permit
Mortgage deed
House sale contract
Tenancy agreement
Deed of division
Diploma
List of grades
Certificate of Conduct
Degree certificate
Driving licence
Residence statement
Bank statement
Credit Registration Office document
More clients in the 'Translation Agencies' category: